10 August 2022
---
Hola there!
I just got back from Catalunya performing in beautiful places like Les Borges, Tarragona, and Sitges with my baroque & contemporary ensemble Les Sélénites. Our cellist Gloria is also a wonderful poet. Through her we had the honor to present ourselves in one of the prestigious poetry festival in Sitges, next to the sea and an amazing castle/museum called Palau de Maricel (it is worth visiting!).
While I'm trying to adapt again with the dutch weather (..haha), I realised that I should share some exciting news with you all. So here we are.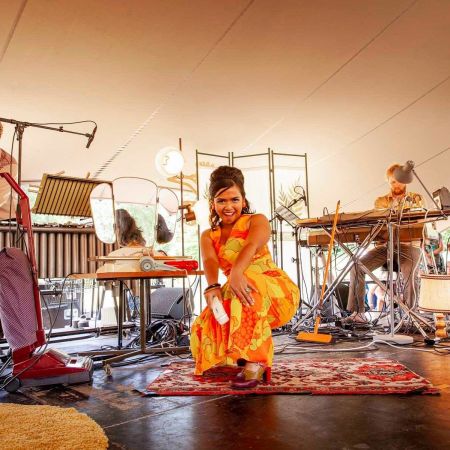 Encyclopedia for the Modern Housewive with Touki Delphine at Over 't IJ Festival Amsterdam! And pssst.. the album is out!
In April, we finally released our CD titled "Kitchen Ballads" (also on Spotify) under the label of
TCBYML which includes the songs from our music theater performance the 'Encyclopedy for the Modern Housewife'. In this show, we are presenting some beautiful classical/baroque songs (Handel, Monteverdi, Purcel, Vivaldi, Ravel, & Seelig) in a new, fresh musical installation.
With the help of electronic instruments, home, garden and kitchen equipment and simple cookware, this music and visual art trio forms a tasteful living room orchestra. Each song is provided with a living room act from Baedeker's Encyclopedia for the Modern Housewife in the 60's. All of this at a perfectly fitting location: the NEMO Science Museum depot.
Over 't IJ Festival / 9 July / 20:30 / Amsterdam, The Netherlands
Over 't IJ Festival / 11 July / 20:30 / Amsterdam, The Netherlands
Over 't IJ Festival / 12 July / 20:30 / Amsterdam, The Netherlands
Over 't IJ Festival / 13 July / 17:00 & 20:30 / Amsterdam, The Netherlands
Over 't IJ Festival / 14 July / 17:00 / Amsterdam, The Netherlands
Further info: Delphine.rocks
Concerts with Euskal Barrokensemble & Enrike Solinis. The Album of The First Voyage Round the World is also launched!
Together with Euskal Barrokensemble and their great music director/guitarist Enrike Solinis from the Basque country, I recorded an album 'The First Voyage around the World' (also on Spotify). This album not only includes songs from Basque country, but also songs from Sumba & Tidore, Indonesia. It is recorded under the label of Alia Vox Diversa, curated by Enrike Solinis and counseled by Jordi Savall. The album depicts the great adventure of the sailor from Getaria, the first who managed to complete along with 17 other men the first voyage around the world in 1522.
Rencontres musicales de Conques / 19 July / 21:30 / Conques, France
Festival Camino de Santiago / 3 August / 20:30 / Huesca, Spain
Lekeitioko Itsas Soinua / 11 August / t.b.a / Lekeitio, Spain
Further info: Solinis.com
CD Release of the Free Improvisation album with Merel Vercammen
Started with friendship, our interests to free improvisation grew stronger. Merel came up with idea of trying some things out. We started 'jamming' a few years ago and explore the possibility of what we have and could do as a classically trained violinist and singer. Merel continued pursuing the idea of making it into album and YES, finally it will be released on TRPTK during Gaudeamus in TivoliVredenburg on September 8th!
I'm so honored being part of this special project, starring also the amazing Ties Mellema, Rembrandt
Frerichs, Maya Fridman, Wilco Oomkes, Vincent Houdijk, Tobias Borsboom, and Jaap Zwart.
OPERA SING ALONG with Philharmonie Zuidnederland (Uitzending gemist/Missed Broadcast)
Yesterday was the television broadcast of the Opera Sing Along where I sang on June 26th in 's-Hertogenbosch with Philharmonie Zuidnederland for MAX Omroep NPO 2. Along with Laetitia Gerards, Raoul Steffani, Shirma Rouse, and Per Otto Johansson. You could watch it back at: Uitzending Gemist.